Through abundant and varied exhibits and academically themed events, the Anderson Academic Commons engages students, faculty, staff, and community members in experiential learning that enhances their formal education and provides opportunities to explore across disciplines and gather beyond the classroom.
Displays of treasures from the DU Libraries' collections, exhibits created by students and faculty, and professional traveling presentations provide Anderson Academic Commons' (AAC) visitors exposure to local and global perspectives, as well as historic and artistic displays.
Some events in the AAC are initiated by the Libraries, while others are coordinated by partners from around campus:
The Library hosts annual author's lectures and receptions related to exhibits
DU schools and units generate events taking advantage of their own strengths and resources, and host them in the Special Events Room at the Academic Commons
Exhibits and events in the Academic Commons support DU faculty, staff, students, and community members in a convenient, center-of-campus location, taking advantage of the dedicated exhibit and event spaces, and the technology options in the Anderson Academic Commons.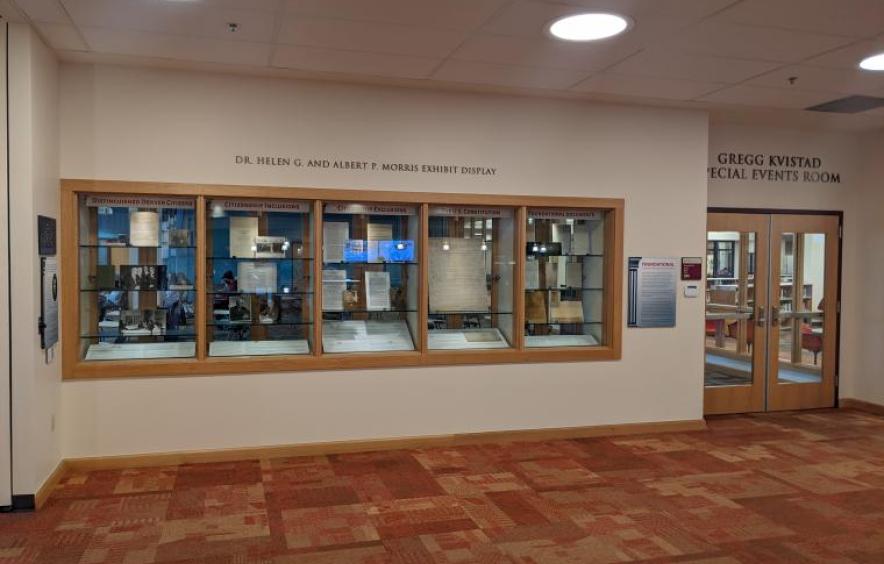 Why Are There Exhibits in the AAC?
The University Libraries offer exhibits and artworks to showcase our collections, highlight the scholarly and creative works of our faculty and students, and draw in external exhibits which enhance the cultural experiences of our community. Engaging and meaningful exhibits and displays of artwork assist the Library in fulfilling its central educational mission and contribute to the cultural life of the Library and the University. All exhibits are open to the public and can be found in public areas on all three levels of the Anderson Academic Commons.
For inquiries about the exhibits program at the University Libraries, please contact Madison Sussmann, Exhibits Librarian.
Contact