FALL 2022 LLAG Newsletter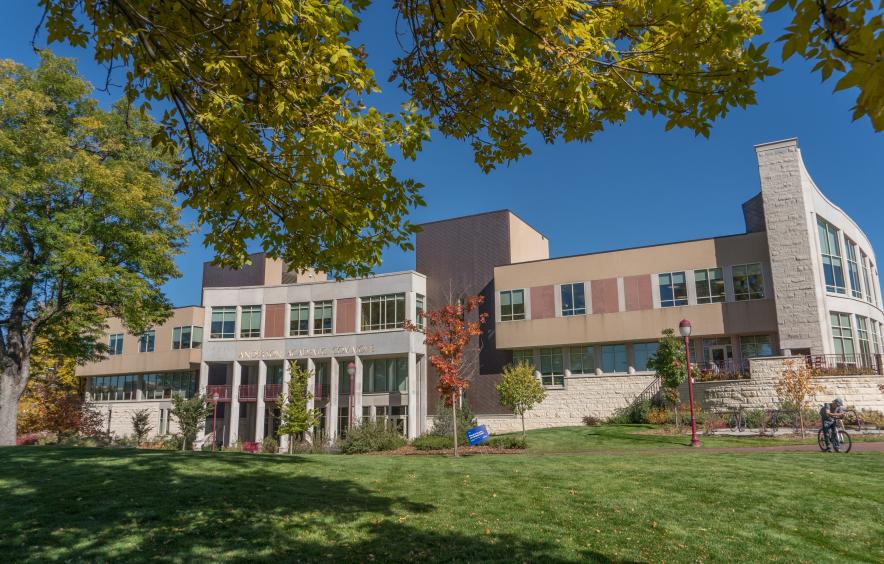 From the Dean's Suite
Princeton Review Ranks DU #1 Best College Library!
The Princeton Review has recently released its annual list of the Best College Libraries, and we are number one!
We've been on this list of 20-25 institutions since we opened the Anderson Academic Commons (before now, our highest ranking had been #4, which happened twice), so it seems fitting that we have reached the top of the list in the same year we celebrate ten years in this facility.
Clearly the building and the ranking are connected – in fact, the high ranking is based on just a single question on the larger survey that undergraduate students are given about their university experience: "How do you rate your school's library facilities?" But I believe that the reason our facilities are so popular with our students is that we have successfully created a place that combines services, collections, and multiple types of study space.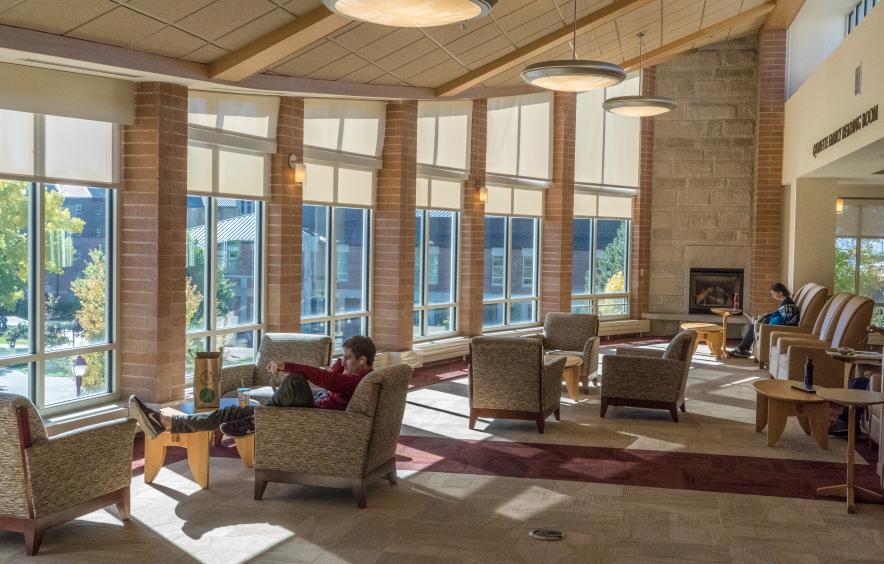 More on AAC
In addition to looking back over our first decade, we will be conducting a program review this year, with external reviewers visiting in the spring to provide feedback about our facilities, services, and collections – both opportunities for us to consider how to continue to improve while maintaining the qualities that have made our library so popular with our students.
We designed the AAC when R1 status wasn't even a dream, when our online programs were smaller, when we had fewer students, and before we were all impacted by COVID. The libraries have evolved over that time – we've hired new positions, converted spaces, and implemented new services. We will continue to innovate to meet the needs of our faculty and students.
We welcome feedback from the Library Liaison Advisory Group and the DU community more broadly. Are there services you would like to see us offer? How might we improve our collections and discovery tools? Do you have ideas about how we might make better use of spaces in the AAC, the Bonfils-Stanton Music Library, or the Hampden Center? Contact me at the email below.
Michael Levine-Clark
Dean of Libraries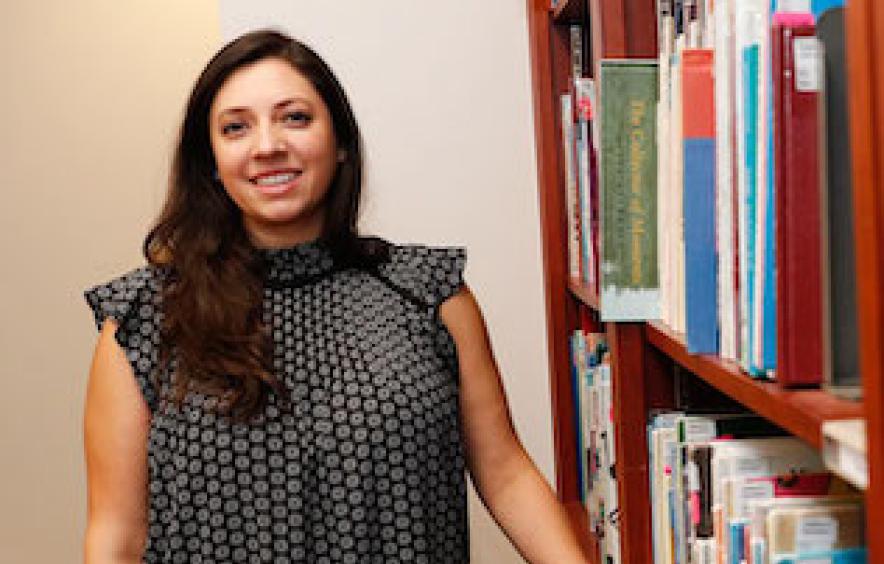 Natalia Umaña
Community Outreach & Reference, Residency Librarian
Natalia joined the library faculty in September after working as the head of circulation at the Lucy Scribner Library at Skidmore College in upstate New York. She received her Master of Science in School Librarianship from the University at Buffalo, and also has a Bachelor of Science in Applied Learning and Development from the University of Texas at Austin. Natalia is excited about fostering partnerships between the library, academic programs, and community organizations, in addition to advancing information literacy through instruction and reference at DU.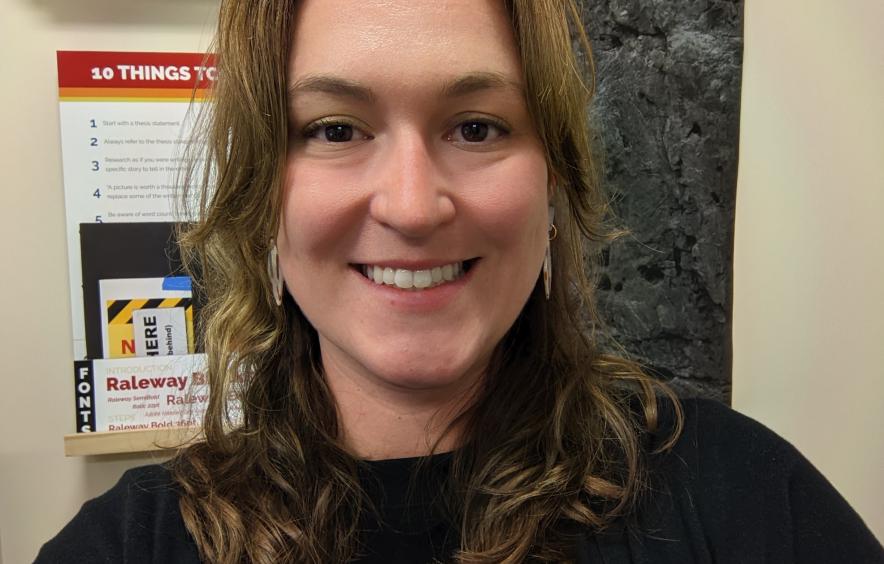 Madison Sussman
Exhibits Librarian
After graduating from DU in 2020 with a Master of Arts in Anthropology, Madi joined the library faculty in 2021. Before coming to DU, she worked in various cultural centers and museums around the country, including the Smithsonian Center for Folklife and Cultural Heritage in Washington, D.C., and the National Cowboy and Western Heritage Museum in Oklahoma City. Madi's research interests include the instruction of exhibit development, and the ways Special Collections and Archives exhibits educate a DU student, faculty, staff, and community audience.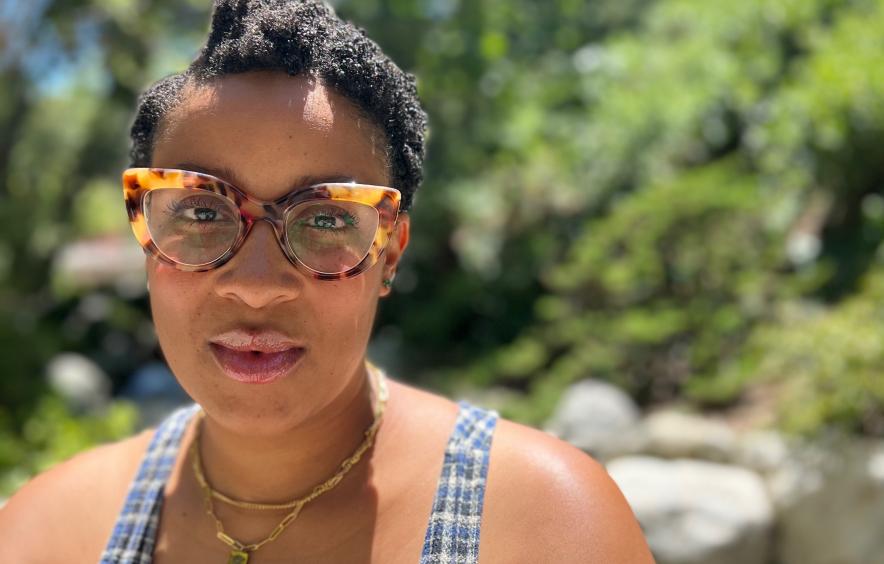 Lauren Turner
Digital Archivist, Residency Librarian
Prior to coming on as Digital Archivist and Residency Librarian in August, Lauren worked as a student within the University Libraries as the Documenting Student Activism Archives Assistant. Lauren is a DU alum, having recently received her Master of Library Science from the Morgridge College of Education. During her graduate studies she also worked for the Center for Art Collection Ethics in the College of Arts, Humanities, and Social Sciences. Before her career in librarianship, Lauren worked in nonprofit marketing and magazine journalism. In her new position in the University Libraries, Lauren will work across the institution to make recommendations on how to preserve born digital university records.
ORCID
Libraries Support Researchers Meeting New Requirements from Office of Research & Sponsored Programs
This quarter, Vice Provost Corinne Lengsfeld announced the Office of Research & Sponsored Programs (ORSP) is requiring all researchers at DU who apply for research funding to register for and maintain an ORCID (Open Researcher and Contributor ID) Profile by December 1. This requirement is due in part to an August policy memorandum from the White House Office of Science & Technology Policy, which ensures that research funded by taxpayers, by default, be made freely available and publicly accessible in agency-designated repositories without any embargo or delay after publication.
Tracking papers by authors that meet various policies, however, is a thorny problem: the University Libraries are here to help! An ORCID profile assigns a unique, persistent identifier to you as a researcher that will help ensure your contributions to research, scholarship, and innovation are connected across disciplines, borders, and time.
As an organization, ORCID is a global non-profit, supported by members including DU Libraries, which began working with publishers, funding agencies, and libraries nearly ten years ago. The use of ORCID identifiers is now widely adopted across scholarly publishing, particularly in journals. In fact, well over 100 DU faculty have already registered with ORCID, so we hope this requirement has already been met by many of you. Once you register and obtain your ORCID, you may include it when submitting grants and publications, which will then be associated with your ORCID profile. These data can eventually be imported into your Watermark Faculty Success (formerly Activity Insight) account. Adopting these identifiers will ultimately save you time, and we're here to support you throughout the process.
Registration Guidelines
For now, ORSP only requires you to register with ORCID by December 1.
 While we are only asking you register with ORCID for now, you can begin importing publications into your profile.
 Read more about ORCID, and find additional information about how ORCID supports researchers.
 Learn more about how ORCID is used in the journal publication workflow by most major publishers.
Assisting researchers in maintaining an ORCID profile is part of a suite of services the University Libraries provide, designed to minimize time spent reporting the activities of research which can take time away from conducting research. We can help you, for example: accurately enter your publications in Watermark Faculty Success; plan to manage your research data post-funding; or understand how open access requirements affect your publication options.
If you have any questions or would like help registering or with any part of ORCID, please contact Jack at jack.maness@du.edu.
Open Access Application Funds
Open Access Publication Equity Fund Enters Second Year
Last year, the University Libraries piloted a centralized fund and process to support researchers who wish to publish in open access journals, but who do not have funding to support the article publication charges (APCs), which are often required. In the first year, the Open Access Publication Equity Fund (OAPEF) supported the submission of over twenty journal articles, nearly all of which included an early career-faculty member or graduate student as an author. Almost every school or college submitted requests, with articles accepted to prestigious journals such as Nature Communications and the Journal of the American Medical Association. 
We are happy to announce funding is available again this year. All faculty, staff and students are eligible for up to $3000 per year to pay APCs. We encourage you to submit a request and publish in an eligible journal. While many university libraries support such funds, ours is somewhat unique in that we do not require an accepted manuscript to approve funding. Because we know some researchers, particularly those without funding, would not consider submitting to a journal that requires an APC to publish unless they have assurance the APC can be paid, we will approve funding and allow up to three months for researchers to complete and submit a manuscript—and however much longer required before publication.
Scholarly publishing practices are changing rapidly, with a variety of models seeking to replace legacy ones, so it's important the fund use criteria that support sustainable, reputable business practices and ensure the integrity of the scholarly record. One year into our pilot we have found many requesters are unsure whether a journal meets these criteria, quite understandable given the pace of change in publishing!
The main reason requests were denied in the first year was due to a title being a "hybrid" journal—one that publishes articles freely available (open) and articles available only to readers with a subscription to the journal (whether as an individual or through the University Libraries). The reasoning here is simple: the Libraries are already paying a publisher of a "hybrid" title a subscription, so also paying an APC that is not subtracted from the cost of subscription, allows the publisher to charge DU twice for the same content—a practice the library community considers unsustainable. In other words, this fund does not support publishers "double-dipping," but those that have completely "flipped" their model to a truly open one.
But it's often hard to tell if a title is a "hybrid," or if it meets our other criteria. One way to check is to look up the title in the Directory of Open Access Journals to review its policies.
Or, feel free to ask us! If you have any questions about the fund or its criteria, please contact Jack at jack.maness@du.edu.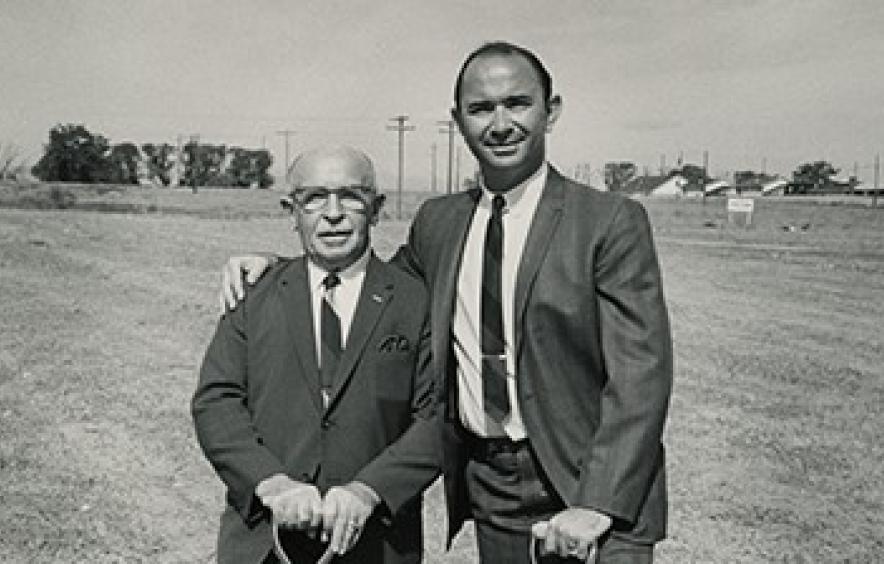 Collections
Perlmutter Collection: The Jordon and Essie Perlmutter Family Papers and Exhibit
Recently, the Beck Archives received a large accrual to the Jordon and Essie Perlmutter Family Papers. Jordon, a former trustee of the University, played an integral role in the development of Denver and the surrounding metro area. In 1951, Jordon (1931-2015) founded Perl-Mack Enterprises—beginning a lifetime of building, real estate development, and property management.
Jordon, with Perl-Mack, introduced the idea of planned communities to the Denver area, and the nation, resulting in the Northglenn, Southglenn, and Montbello communities. Malls were built for the communities of Northglenn and Southglenn, and additionally Southwest Plaza in Littleton. Perl-Mack was also responsible for industrial projects, parks, schools, and community facilities surrounding their primary developments.
In 1983, Perl-Mack dissolved, and Jordon, along with his eldest son Jay, founded Jordon Perlmutter & Co. Later, Jordon's son-in-law Shell D. Cook and younger son Jonathan joined the company. The family and company later reacquired and redeveloped the Northglenn Mall into an outdoor center renamed Marketplace at Northglenn. Other projects in the Denver area that Jordon Perlmutter & Co. added include major retail outdoor shopping centers such as Larkridge, Belleview Shores, Chanson Plaza, and Bowles Village Center.
Both Jordon and Essie had multiple philanthropic endeavors. The project Jordon was most proud of was Beth Israel at Shalom Park, for which he raised $14 million as chairman and president of the board of directors. His work with the Jewish community was extensive and supportive of denominations across the spectrum.
Jordon took pride in personally receiving recognition in 1977 from the former Prime Minister of the State of Israel, the Honorable Yitzchak Rabin, for his work with Israel Bonds. Both he and Essie were recipients of the Rose Hospital Humanitarian of the Year Award in 1987. In 2009, he received a Lifetime Achievement Award from the Allied Jewish Federation of Colorado, now known as Jewish Colorado. A month before his passing in 2015, Jordon received the "Hineni" Award from the Jewish Community Center.
Jewish institutions were not the only beneficiaries of Jordon's philanthropy. He was inducted as a Laureate into the Colorado Business Hall of Fame in 2009. Also, Jordon was a founding member of the International School of Denver.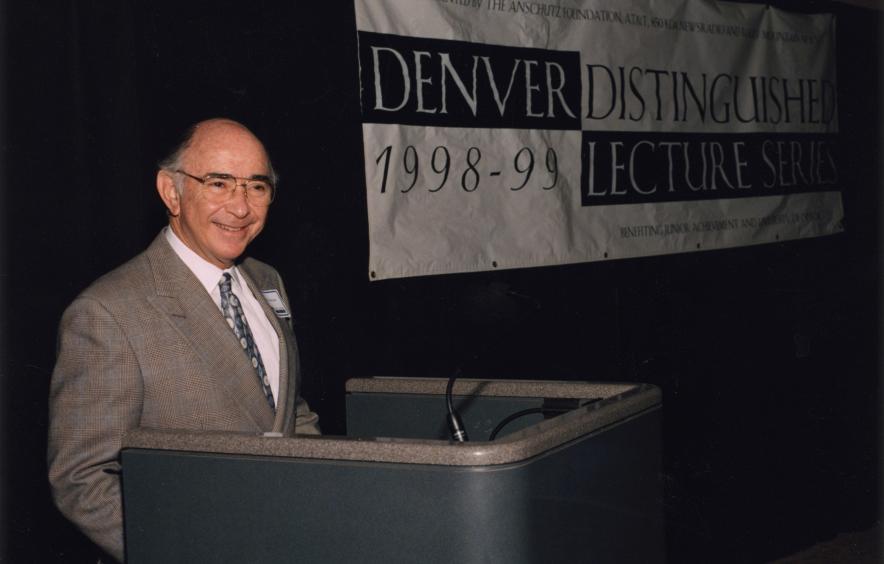 The Jordon and Essie Perlmutter Family Papers and Exhibit Cont.
Beginning in 1991, Jordon spent 15 years as an active Trustee of the University of Denver. He and Essie were founding donors of the DU Holocaust Memorial Action Site. The AAC lending desk was named in Essie and Jordon's honor. He was also a charter member of the Burns School of Real Estate and Construction Management and received multiple awards and honorary deanships for his work with the University.
Throughout his life and to this day, Jordon Perlmutter made a positive, indelible mark on the lives of countless individuals and institutions. His dedication to the growth of the Denver landscape is still visible to so many residents. The Beck Archives is excited to act as custodians to the valuable papers and artifacts donated by his family.
An exhibit on Jordon, and his family's legacy, has been developed and installed at the AAC in the exhibit cases surrounding the Gregg Kvistad Special Events Room (AAC 290). The exhibit (see entry in Exhibits article below) will be on display until March 3, 2023 and showcases the many important facets of Jordon's life.
David Fasman
Metadata Technician, Beck Archives at the University of Denver
Exhibits on Display
September 10, 2022 – November 22, 2022
Through our exhibitions for Fall 2022, we designed inviting spaces for students returning to campus and employed our exhibits to engage them in conversations and critical thought. Featured here are four exhibitions that are now on display or will be installed this quarter.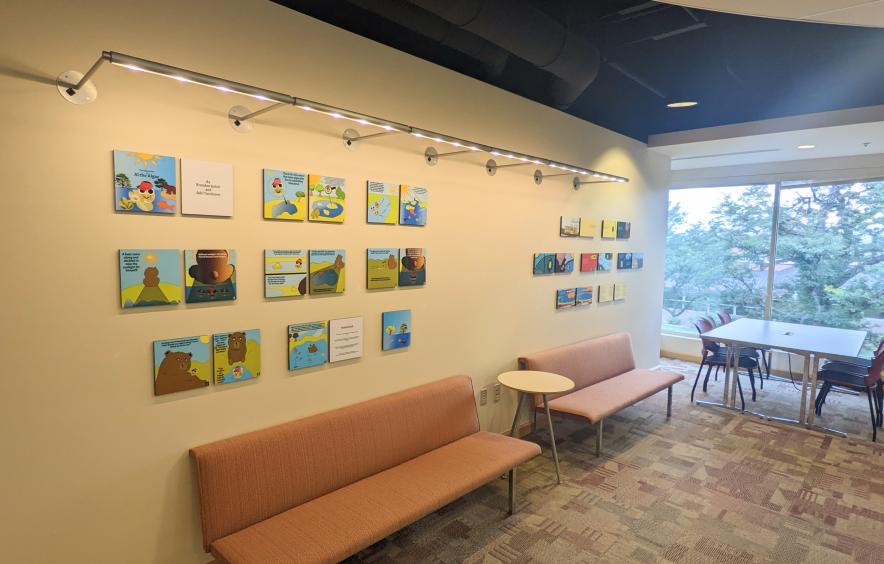 Living in a Microbial World: Children's Books Written & Illustrated by DU Students
September 2, 2022 – December 9, 2022 in the Deline Family Reading Area. In the NW Corner of the Upper Level
This exhibit showcases student works from the SQ 2022 course Living in a Microbial World, BIOL 1272, taught by Dr. Nancy Sasaki. Student visually shared current and relevant information on the role of microorganisms in the maintenance and health of humans and the environment in which humans live, and to showcase an understanding of the nature of science and how it is involved in everyday life.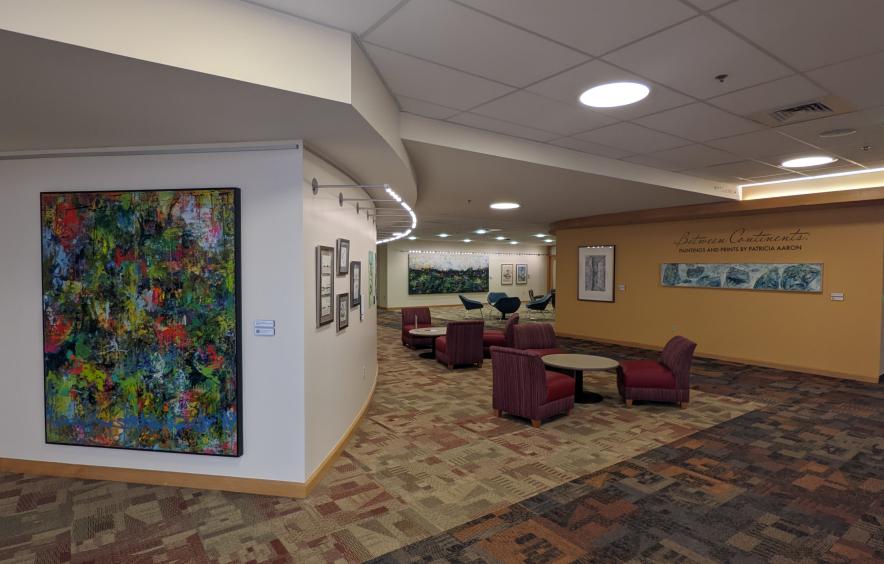 Between Continents: Paintings & Prints by Patricia Aaron
September 15, 2022 to January 27, 2023 in the Dean's Suite Area in the North East Corner of the Upper Level in the Library
Patricia Aaron is an American painter best known for her gestural abstract landscapes composed of layers of encaustic pigments and mixed media applied to custom panels, which is her signature-style painting technique. Her paintings fuse the raw beauty of nature, earthscapes, and urban culture. Aaron's paintings are reflective, pure, and honest, often embedded with rich story lines.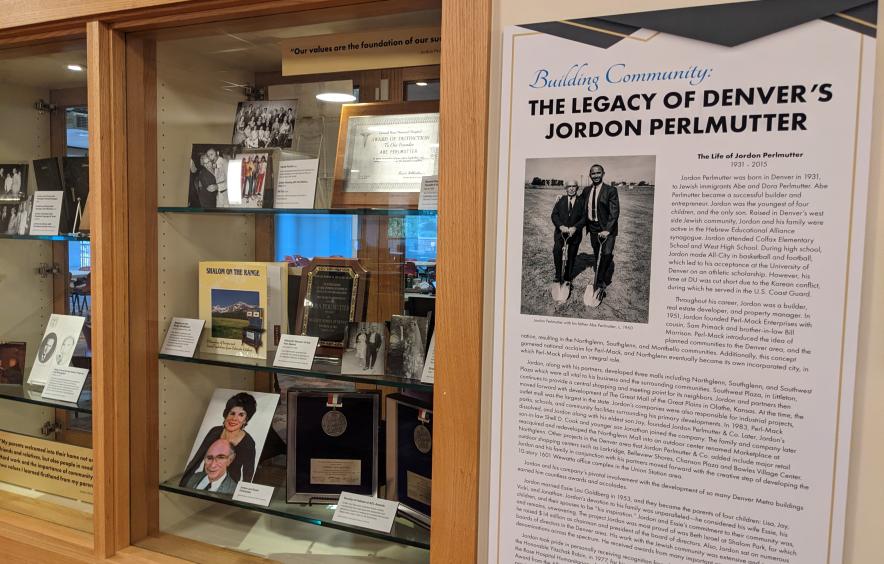 Building Community: The Legacy of Denver's Jordon Perlmutter
September 21, 2022 – March 10, 2023 in the Morris Cases  in the Main Level Adjacent to the Kvistad Special Events Room (290) in the Library.
The imprint Jordon left on the city of Denver and surrounding areas has helped ensure both their and his legacy. See article above for more about the Perlmutter collection in Special Collections.
Exhibits Coming Soon
Banned Books: DU Libraries Promote the Freedom to Read
October 13, 2022 to January 6, 2023 in the New Book Area on the Main Level
Every year, the American Library Association (ALA) publishes a list of challenged and banned books from information gathered across the United States. In 2021, cited reasons for such challenges include LGBTQIA+ content, sexual education, profanity, conflict with religious viewpoints, and so on. Regardless of the reason, banning books is a form of censorship that interferes with free access to information. The concept of this exhibition is to explore when, where, and why books are banned or challenged, and the impact of this practice.
Colorado Asian Pacific United (CAPU) Traveling Exhibition and Timeline
Colorado Asian Pacific United (CAPU) is an organization formed by AAPI community leaders and allies who share the goal of educating Denver about the thriving Chinatown that was once part of the LoDo district. The traveling exhibition and accompanying timeline share the history of Chinese people in Denver and contextualizes it with local and federal policy, acts of violence against Chinese people, Chinese resistance, and regional and global events.
October 17, 2022 to December 9, 2022 in the New Book Area on the Main Level and the walls across from Special Collections & Archives on the Lower Level at the bottom of the main staircase)
Art and Observation in Student Health Care: A Student Art Installation
This exhibit features student art that embodies their observations and interactions while looking at medicine through diverse, equitable, and inclusive lenses. The artwork was created as part of Barbekka Hurtt's Art and Observation in Health Care First Year Seminar, teaching students to think holistically about patients and health care.
November 18, 2022 to February 3, 2023
In The Loft Walls and the Upper Level in the exterior walls of The Loft
Visit the Anderson Academic Commons to view these exhibitions and the other physical exhibits on display, such as The Black Experience @ DU. Visit the Current and Upcoming Exhibits webpage for an up-to-date list of exhibitions, and check out our digital exhibitions on the Online Exhibits webpage.
The exhibits at the University Libraries are coordinated by Madison Sussmann, Exhibits Librarian. For more information about current exhibits, events, or proposing a future exhibition, please contact Madison at the email below.
Madison Sussman
Exhibits Librarian